Get the perfect view and easy access to your phone with the Wrist-Armband Phone Holder 180 Degree Rotatable while running, cycling, riding, camping, hiking, office or daily activities.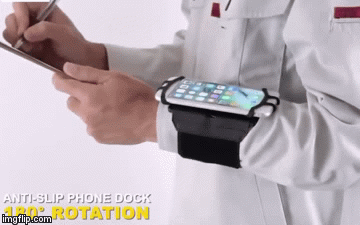 High Quality: Soft rubber material, comfortable touch, equipped with an anti-skid base, sturdy and durable. has a sweat proof feature.
Original Design: Strong magic tape design, easy to wear. Advanced elastic silicone can hold your phone firmly; safe grip.
Adjustable: Flexible, soft elastic strap that fits for most upper-arm or wrist 15-25cm/ 5.9-9.8inch.
Phone Holder: Built-in 180 degree silicone stand with elastic band, flexible, to adjust your phone screen for better viewing. 
Compatible With Almost All Smartphones: The wrist-armband fits phones with a display between 4-6 inch, compatible with iPhone 6/6S/7/8 Plus X, Samsung Note 5, Huawei Mate 8, OPPO, for Vivo smartphone.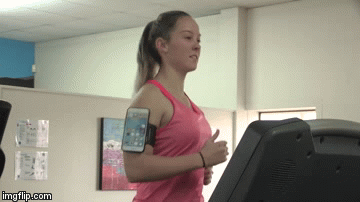 SPECIFICATIONS:
Type: Wrist Armband Phone Holder
With Earbud & Key Holder
Phone Holder: 180 Rotatable
Fit to Arms: 15-25cm / 5.9-9.8 "
Compatible With: iPhone 6/6S/7/8 Plus X, Samsung Note 5, Huawei Mate 8, OPPO, Vivo smartphone
Certification: CE, FCC, Rohs
Color: Black, Green
Size: 6.3"L x 5.1"W x 0.8"H (16cmx13cmx1.9cm)
Net Weight: 2.1Oz (60g)
Package includes: 1 x Armband phone holder
WE SHIP WORLDWIDE 
Ready to ship in 3-5 business days.
The Estimated Delivery Time is 9-27 Days within US and 2-4 Weeks Worldwide.
Bought this wristband as an alternative and am really enjoying it. The product has been more than i ever could have imagined. It holds my phone securely, its easily viewable on my wrist during runs and now my app is handily accessible for updates while I run.
Its holds my phone pretty tight so I didn't think for 1 min it would fall out. Surprisingly it was pretty comfortable and definitely easy to use. : I like it, I'll definitely keep using it
Good product! Worked well for what I needed.
I've been using this product with my iPhone 7 for about 3 weeks now and I'm very satisfied. It fits my lower arm and I can wear it above my FitBit. I use it to track my weight lifting routine and to record the reps I do. The ability to swivel my phone makes it easy to see and easy to get it out of my way. Although some people complained, I have found that the stretchy holders do not block any of the buttons on my phone. The price is low, the product does just what I wanted it to do and it got to my home in 2 days. What's not to love? I highly recommend this product.
I use it with my Iphone 7 Plus in a Yesgo hard shell case. I use a phone app for my run/music and while it looks like an exaggerated-overgrown and obnoxious watch, I couldn't be happier. If I use a typical phone band it make my upper arms chaff and it is difficult to change settings, pause workouts, etc. Having it on my forearm allows using the phone during my runs/workouts much easier and less cumbersome. The band is also very sturdy and the straps holding the phone are strong.